Site Blog
...from time to time, some thoughts need to get out...
Commodore 64: 8 Bit Legend
Author: Zeldin - written on 19.09.2012
Bah... seems I am not able to post something regularly... at least not even once a year :-(
I am currently writing on my second novel, and don't find time for C64 activities, which is really sad. Next year we'll have 25th anniversary of Cascade, and I really want to make some little celebration demo around this happening, but I am afraid, it will be a tough nut to find some free minutes for squeezing a bunch of pixels, code and music into a file.
Well, we'll see...
Anyway... today I finally felt to post something, not only for giving the front page look a deserved change, but to make sure you won't miss the following youtube vid, which is really impressive. A brilliant and contemporary commercial for our good old and beloved breadbox.
So here we go...
Commodore News
...freshly fished out of the net...
10.05.2021 -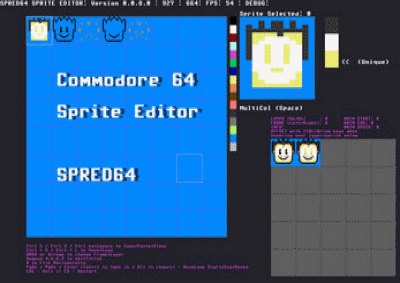 'Spred64' - C64 Sprite Editor - V1.33 Beta released
'Spred64' is a Commodore C64 Sprite editor, compositor and animator for Windows, that you can get for little money. New in V1.3.3: - Added labels to each sprite ID. Minor fixes to animation speeds to stop the flickering/leaking outside the frame range. Previously - V1.3.2: - Major fix to offsets (ascii codes were of by 5x and caused side effects in code) - Please use Alt+L to hotfix your offsets (if you have used them) and resave as a new file. .txt Data files now come with extra offset information based on the top left sprite (0,0) position. Your sprites themselves wont be affected, just the compositor layout. Get in touch if you need me to fix any files. Added duplicate frame icon for the animation compositor. Added some text info to u.i. Mechs Demo included. V1.31 - Minor bugfix. Shift+X / Shift+Y on compositor to toggle stretching.
10.05.2021 -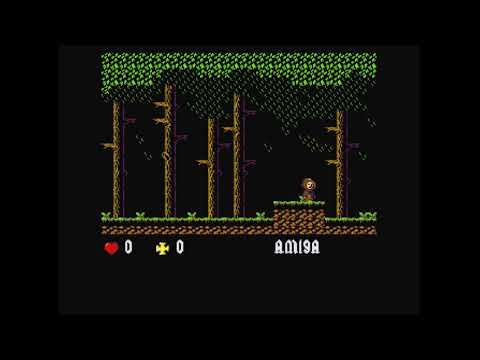 'Abbey of the Dead' a possible Amiga port Abbaye des Morts
A video shows a possible future port of L'Abbaye des Morts to the Amiga using Scorpion Engine. Graphics redrawn to 16 (non Speccy) colours.
10.05.2021 -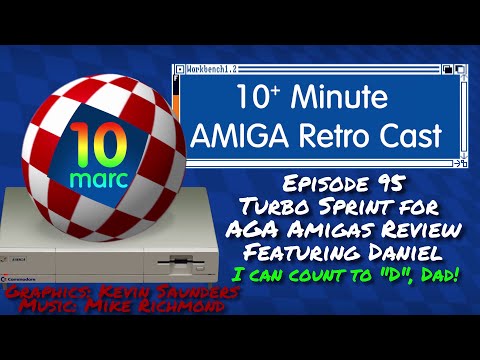 Turbo Sprint for AGA Amigas Review - Featuring Daniel - Episode 95 - new video from '10 Minute Amiga Retro Cast (10MARC)'
This week on 10 Minute Amiga Retro Cast, Daniel and Doug from 10MARC are reviewing the brand new arcade conversion Turbo Sprint for AGA Amiga's from our good friend Graeme Cowie, AKA McGeezer. This awesome game uses Hi Res AGA graphics to bring the Atari Arcade Classic "Super Sprint" to the Amiga!
09.05.2021 -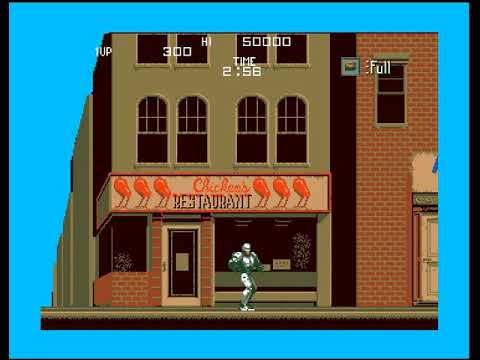 Video shows (possible?) WIP 'Robocop' game for Amiga
Based on a game engine for a 'Kungfu Master' game from the same dev, this one uses graphics ripped from the Robocop arcade version.Video shows test on Amiga 500 512 kb +slow ram 512 kb. Not much more is known, though...
09.05.2021 -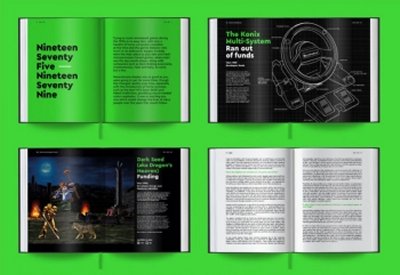 'Games That Weren't book' back in stock!
Frank Gasking from GTW was completely blown away by the support when The Games That Weren't book was launched late last year, and even more so when it completely sold out by the start of the new year. After a number of queries asking if there was going to be another production run, he is pleased to announce that there has been and the book is now available once more via
http://www.gtwbook.co.uk
.
09.05.2021 -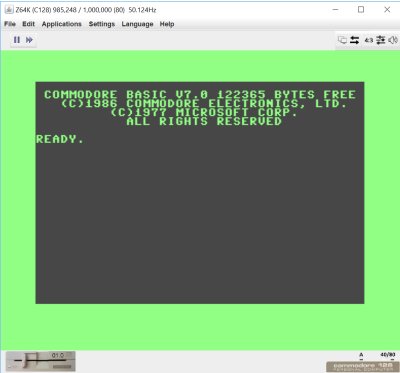 Update for 'ZK64' available
'ZK64' is a pixel exact emulation of the Commodore 128,Commodore 64, VIC 20, ZX Spectrum 48/128K and Atari 2600. 'Z64K' should run on any platform with an updated java runtime environment installed. Latest updates (v2): - Updated undocument machine monitor IO command to dump c64/c128 registers. e.g. io d500 will dump detailed c128 mmu values. io by itself will dump values only for all io registers. note: the io command is still work in progress.
09.05.2021 -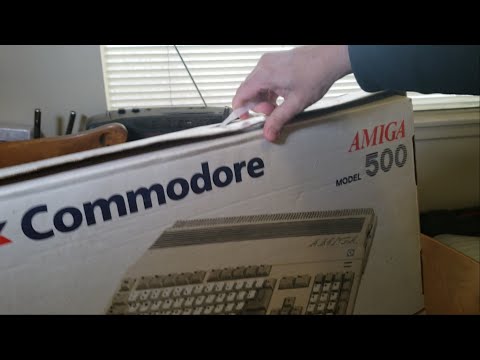 From the blog files; Amiga 500 Unboxing - video by 'GRay Defender'
In this video 'GRay Defender' unboxes an Amiga 500 he purchased from Stacy Bates from the UK.
09.05.2021 -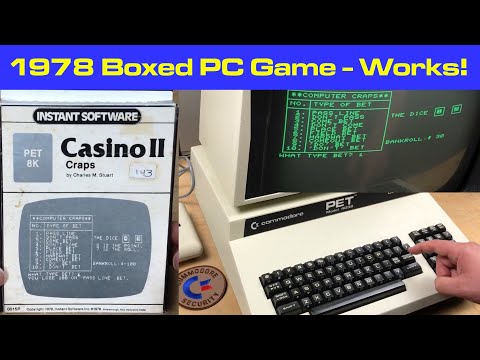 Playing a 42.5 Year-Old New Old Stock PC Game - new Video from '8-Bit Show And Tell'
In 1978 Instant Software released Casino II: Craps along with many other titles for the Commodore PET, TRS-80, and other personal computers of the era. They were remarkable for their professional packaging and higher-quality documentation in an era where the little commercial software available was provided in a plastic baggie with instructions on a folded sheet of paper. Today we'll open a new old stock game and see if the cassette still works!
07.05.2021 -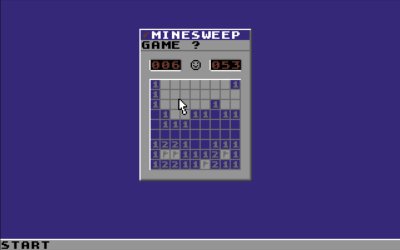 New C64 game 'Minesweeper64' released
A nice little Minesweeper clone in Windows 95 style written in BASIC for the C64, which you can download for free.
07.05.2021 -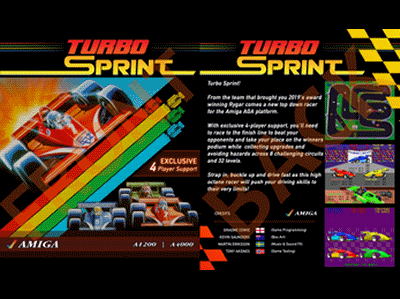 'Turbo Sprint' for Amiga (AGA) finally released
'Turbo Sprint' is based on the classic arcade game Super Sprint. The game features 8 tracks that range in difficulty, up to four players can take control of either a Blue, Red, Yellow or Green car. Cars that are not controlled by players are computer controlled. When all 8 tracks have been completed the game loops back to the first track but the difficulty is increased with various obstacles and increased speed of the computer controlled cars. New players have the opportunity to join a race after each track has been completed. Turbo Sprint comes in two editions, digital and physical. If you purchase the physical edition you will also receive the digital edition to download immediately.
06.05.2021 -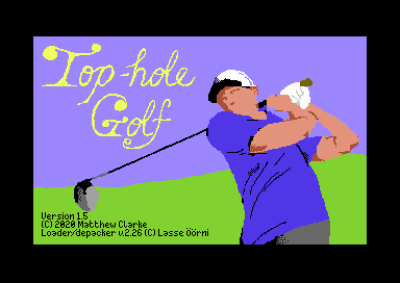 C64 game 'Top-hole Golf' V1.5.2 released
Top-hole golf is a very nice 3D golf game for the Commodore 64 by Matthew Clarke, who has just released a new updated version 1.5.2. Putting now has a 'slow' mode (activated by pushing up on the joystick) - power arc fills up at half-speed making it easier to time the shorter putts. Also some visual feedback re. speed - hole is drawn in red while the ball is travelling too fast for a successful putt. You also now have a 'punch' shot (as in 'World Class Leaderboard'), activated by pressing 'P' on the keyboard (unless you're teeing off or in the sand).
06.05.2021 -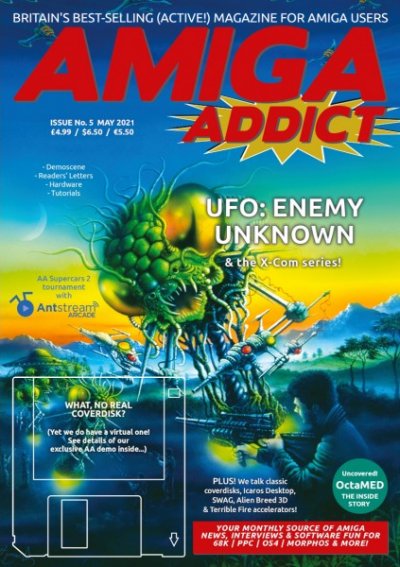 'Amiga Addict' Issue #5 out now
Amiga Addict is a new digital and printed Amiga magazine shipping worldwide. Issue 5 will include: - UFO: Enemy Unknown & the X-COM game series. - Our first Amiga Addict downloadable coverdisk. - Amiga Addict competition to win a signed Danny Flynn UFO limited edition giclée print! - News of our exclusive Antstream Supercars 2 gaming tournament, plus exclusive chat with Barry Leitch. - Slayers of High Toro reviewed. - Smarty and the Nasty Gluttons reviewed. - The story of OctaMED with Teijo Kinnunen. - SWAG usergroup feature. - Plus lots lots more..!
06.05.2021 -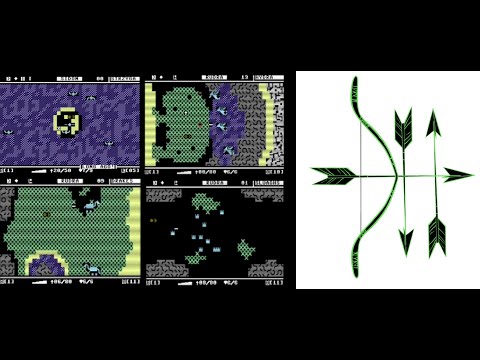 Video shows trailer of 'Destiny Hunter' (WIP) for C64
'Destiny Hunter' is a port from the Commodore PET to C64. A story adventure action RPG tribute to the original 8-bit personal computer! Features: - Animated challenges, - Resource management (health, stamina, arrows), - Watch your step, secrets abound!, - Find the orb and defeat the hydra! Announced to be available August 2021.
06.05.2021 -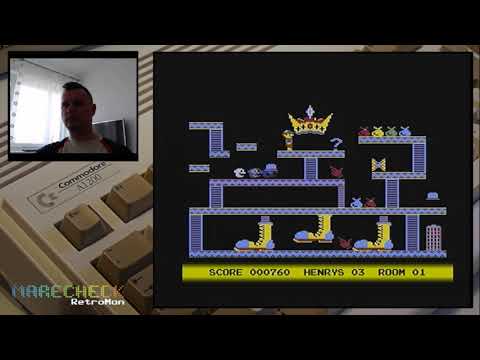 Amiga port of 8-bit classic 'Henry's House' announced
A video shows a preview of the WIP conversion of 'Henry's House' (first room) for the Amiga by MC Studio.
06.05.2021 -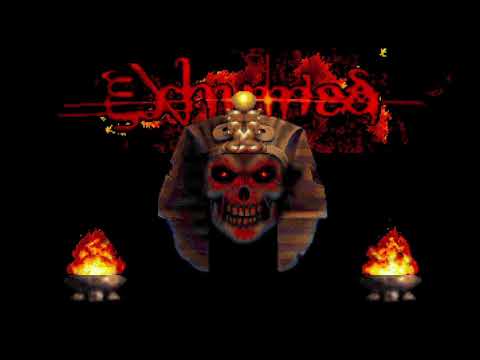 New viode on 'Exhumed - PowerSlave' - Amiga 1200 AGA/RTG port by BSzili
This is video and audio captured from a real Amiga A1200 with Vampire V1200. RTG output. Exhumed / PowerSlave is an Egyptian-themed FPS by Lobotomy Software using the Build engine. The console versions were quite popular back in the day, but the DOS one was largely overlooked due to the somewhat awkward controls and issues on faster systems. This is the Amiga BETA-port from the game, which is still work in progress.