Site Blog
...from time to time, some thoughts need to get out...
Commodore 64: 8 Bit Legend
Author: Zeldin - written on 19.09.2012
Bah... seems I am not able to post something regularly... at least not even once a year :-(
I am currently writing on my second novel, and don't find time for C64 activities, which is really sad. Next year we'll have 25th anniversary of Cascade, and I really want to make some little celebration demo around this happening, but I am afraid, it will be a tough nut to find some free minutes for squeezing a bunch of pixels, code and music into a file.
Well, we'll see...
Anyway... today I finally felt to post something, not only for giving the front page look a deserved change, but to make sure you won't miss the following youtube vid, which is really impressive. A brilliant and contemporary commercial for our good old and beloved breadbox.
So here we go...
Commodore News
...freshly fished out of the net...
02.12.2020 -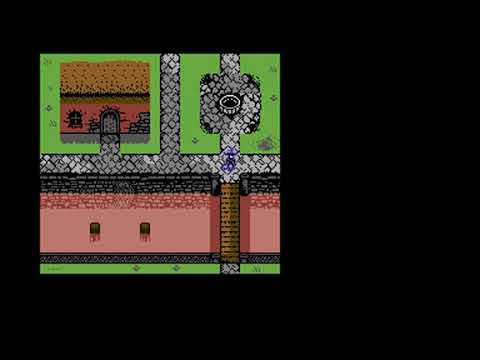 C64 cRPG called 'Meonlawel' in development
Video shows testing of 'Meonlawel', a beautiful computer role-playing adventure game, with vampyres in the leading role. It's currently in development. The main engine is being rewritten from Basic to assembler. A number of new features have been added thanks to the majestic power of assembler. This project will take a lot of time – it's one of those long-term, immortal projects, you know. Learn more
here
.
02.12.2020 -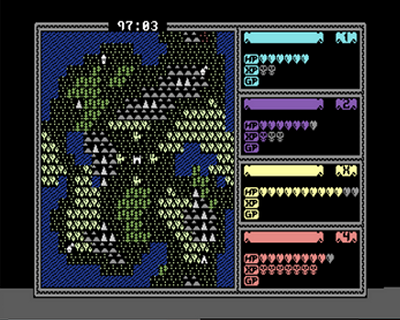 C64 MMORPG in development
Massively Miniature Offline Role Playing Game for the Commodore 64. Think a one-screen, four-player, procedurally generated map, Ultima-meets-Archon kind of thing… with a timer.
01.12.2020 -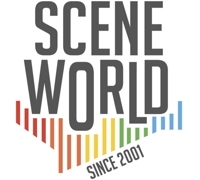 Scene World Podcast Episode #100 - Mike Clarke's inSIDious
"Thank you for purchasing inSIDious, the best SID emulation available for your DAW, and welcome to the wonderful world of the MOS Sound Interface Device," is how the manual refers to Mike Clarke's SID emulation plugin that no longer requires a costly full version of Reaktor to use! How does a veteran composer, largely known for his awesome music on the Amiga, produce SID emulation that offers the unique sounds of famous composers like Chris Huelsbeck, Martin Galway and many more? AJ, Joerg, and our musical hero Martin sit together with Mike to learn more about the magical world of SID emulation and why this attempt makes it so outstanding! (Interview begins at 12:46)
01.12.2020 -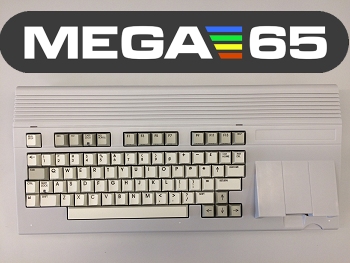 Making a C64/C65 compatible computer - DevKits are appearing around the world!
It has been a sheer delight the past few days, as people have begun receiving and assembling their MEGA65 DevKits, and even started to create things using them! In case you missed the action, there are now several first impressions / assembly videos up on youtube... [read on]
01.12.2020 -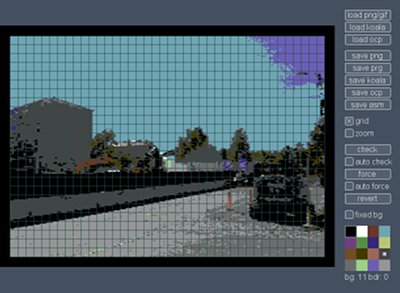 C64 graphic tool 'Pixel Polizei 2020' released
'Pixel Polizei' is a tool for the retro/scene/retroscene artist. It lets you automatically check whether an image conforms to the color limits of a particular oldschool platform and save the result in certain native formats. The underlying idea is that you can use whatever paint program you happen to prefer for creating the images and observe – almost real-time – if you've made a mistake somewhere. One more fundamental bit is that the tool is multiplatform unlike many others. 'Pixel Polizei' is not a paint program or a generic image format converter, even though the aim is to implement at least the most typical file types for the supported platforms. Neither is it meant to be used as a converter for random family photos. You can use it for that purpose too, but the end results won't be as good as with dedicated tools. For converting various old formats to modern images check out the Recoil project.
01.12.2020 -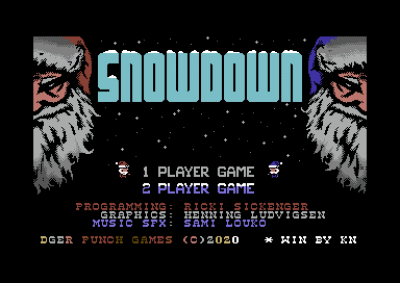 'Snowdown' - new C64 game released
'Snowdown' is a 1 or 2-player Christmas themed action shooter for the Commodore 64, released in 2020. It's an Xmas version of our newly released game 'Showdown'. The game is inspired by a host of older titles with the same theme, going all the way back to Gun Fight from 1975. The game is available for bargain as digital version (download).
01.12.2020 -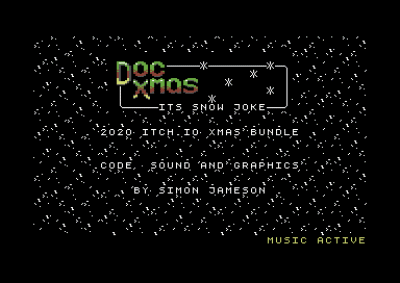 'Doc Xmas' - new C64 game released
This platformer game is a special Christmas release of the award winning 'Doc Cosmos' contains some graphical updates to make Doc more seasonal along with 5 additional puzzling screens that cannot be found in the original game and some minor bug fixes. The game is available for bargain as digital version (download).
30.11.2020 -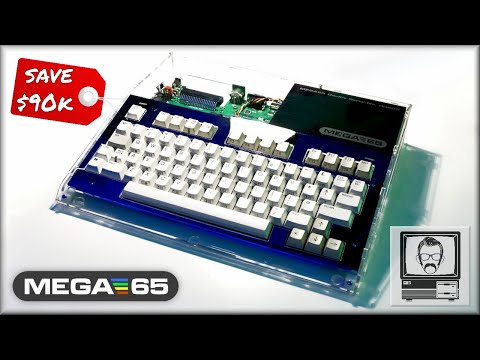 The Commodore 64 has a Successor (and it's amazing!) - video from 'Nostalgia Nerd'
So, the Mega 65 is here. If we're counting the days since the Commodore 65 prototypes, it has been a long time coming, but this "Mega 65" is so much more than the Commodore 65 was intended to be. This is a complete machine, a whole machine, and although this is only the Mega 64 Dev Kit, it gives us a very firm taste of what the complete machine will hold. Let's dive in.
30.11.2020 -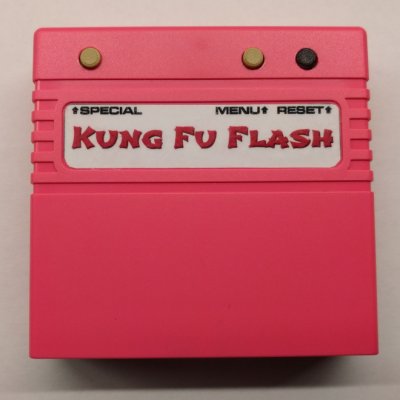 'Kung Fu Flash' Firmware v1.16 released
'Kung Fu Flash' is a cartridge for the Commodore 64 by Kim Jorgensen that packs a punch. It can emulate different cartridge types, load PRG files and use D64 disk images. Just place your desired CRT, PRG or D64 files on a FAT formatted microSD card and use the built-in launcher to execute them. New in this update: - Rearrange Magic Desk flash usage to improve programming speed. Useful for The Joker's KFF MD64 Quickstart Collection
30.11.2020 -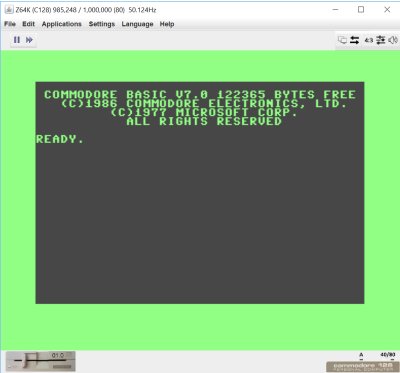 Update for 'ZK64' available
'ZK64' is a pixel exact emulation of the Commodore 128,Commodore 64, VIC 20 and Atari 2600. 'Z64K' should run on any platform with an updated java runtime environment installed. Latest updates: - Replaced monitor single step cycle "r" command with "cycle" and "zc". The command is now included in the machine monitor help (? cycle). r is currently disabled and is reserved for the register command. - Fixed bug when exiting machine monitor where last stepped instruction in debugger window would be over written.
30.11.2020 -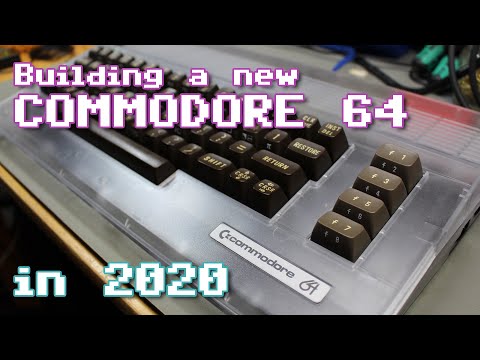 Building a new C64 in 2020 - new video from 'Jan Beta'
It's been a weird year. Let's build a Commodore 64 in 2020. Based on one of the now available replica PCBs, Jan set out to build his own C64 with as many brand new parts as possible.
30.11.2020 -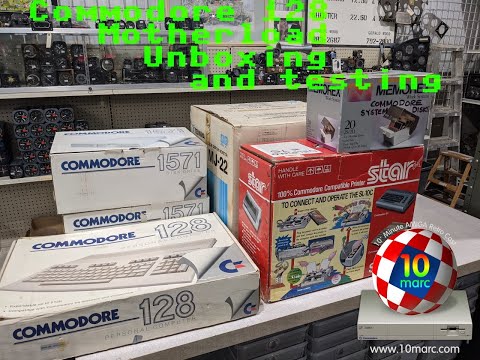 Commodore 128 Motherload Unboxing and Testing - ChickenHead Chronicles - new video from '10 Minute Amiga Retro Cast (10MARC)'
This week on "Chickenhead Chronicles" Doug from '10MARC' is unboxing the awesome Commodore 128 goodies that he picked up at EE Surplus a few weeks back. He got ahold of a really nice C128, a pair of lovely 1571 drives, a Teknika monitor with RGBI and Chroma/Luma/Composite and a nice 9 pin Star Micronics printers along with a huge box full of software! Today we will be exploring and troubleshooting the hardware and discovering a problem or two along the way and you get to hear me singing the theme to Ghostbusters!
29.11.2020 -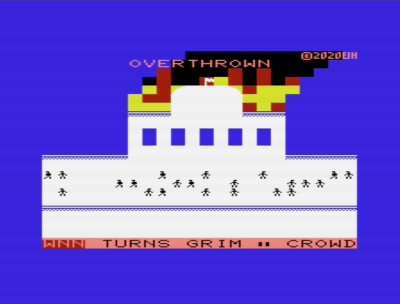 New VIC-20 game 'Overthrown' released
'Overthrown' is a 8K Cartridge Game for the Commodore VIC-20 where you play the soon to be ex-president of a corrupt oil state. Your goal is simple, escape to your private island without getting killed! Unfortunately everybody seems intent to stop you from reaching retirement so expect heavy resistance in the form of road barriers, mines, insurgents, helicopters, airplanes and the navy. Points are scored for remaining cash and distance traveled.
29.11.2020 -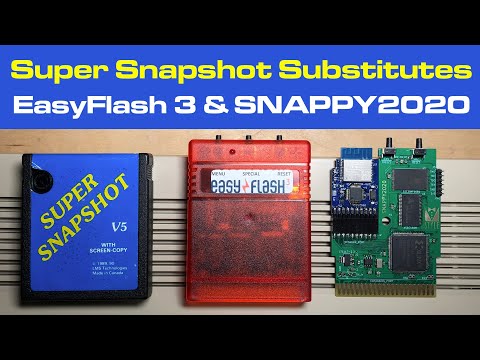 Super Snapshot Substitutes: EasyFlash 3 and SNAPPY2020 - new Video from '8-Bit Show And Tell'
We look at two modern equivalents to the classic Super Snapshot V5 utility cartridge: the excellent EasyFlash 3, and the SNAPPY2020 prototype.
29.11.2020 -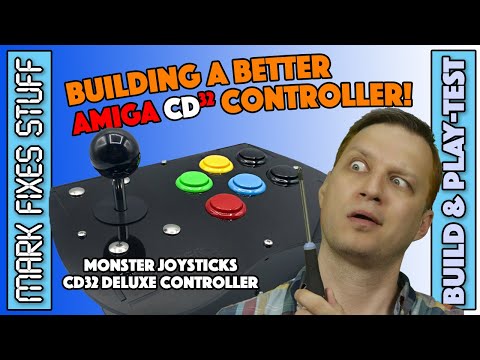 Monster Joysticks CD32 Deluxe Joystick - Full Build Guide & Test! - video by 'Mark Fixes Stuff'
In this video we are reviewing the Deluxe CD32 Retro Joystick Kit from Monster Joysticks! We do a FULL STEP-BY-STEP build, and then play some games...