Site Blog
...from time to time, some thoughts need to get out...
Commodore 64: 8 Bit Legend
Author: Zeldin - written on 19.09.2012
Bah... seems I am not able to post something regularly... at least not even once a year :-(
I am currently writing on my second novel, and don't find time for C64 activities, which is really sad. Next year we'll have 25th anniversary of Cascade, and I really want to make some little celebration demo around this happening, but I am afraid, it will be a tough nut to find some free minutes for squeezing a bunch of pixels, code and music into a file.
Well, we'll see...
Anyway... today I finally felt to post something, not only for giving the front page look a deserved change, but to make sure you won't miss the following youtube vid, which is really impressive. A brilliant and contemporary commercial for our good old and beloved breadbox.
So here we go...
Commodore News
...freshly fished out of the net...
25.07.2021 -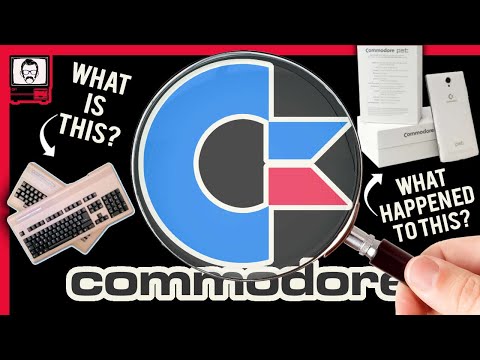 The Great Commodore Brand Heist - new video by 'Nostalgia Nerd'
Commodore, a brand that has been with us for decades. As synonymous with computing as ICL or IBM, but almost universally loved. Commodore brought us the C64, the SX64, the Commodore Amiga, The Commodore PET Smartphone... WHAT. Yes, in 2015, a company known as Commodore Business Machines released a Commodore branded smartphone, and then seemingly vanished. This video explores what happened with that Smartphone before finding out what the company are doing these days...
25.07.2021 -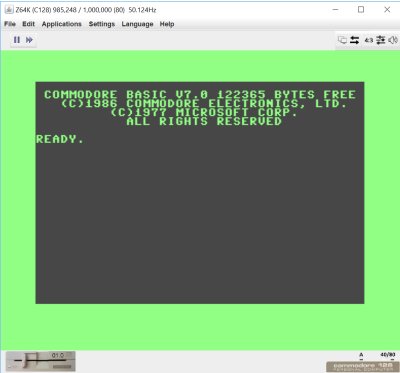 Update for 'ZK64' available
'ZK64' is a pixel exact emulation of the Commodore 128,Commodore 64, VIC 20, ZX Spectrum 48/128K and Atari 2600. 'Z64K' should run on any platform with an updated java runtime environment installed. Latest updates (v2): - Added UP9600 rs232 modem support. - Fixed bug with automatic loading of SDR value into CIA shift register when loaded at same time as final bit of previous SDRshifted out.
24.07.2021 -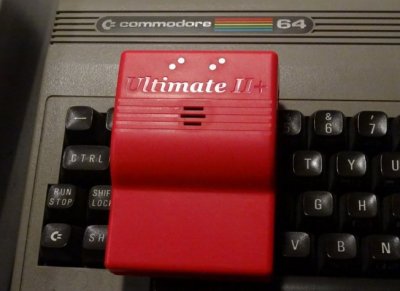 Firmware version 3.10 / Core 1.41 for Ultimate 64 and 1541 Ultimate-II released
Changes since official release (3.9 / 1.37): Added features - Hardware emulation of 1571 and 1581 drives (U2+ / U64 only) - MFM support on 1571, with enhanced G71 format to store MFM tracks - Added audio samples for insert / remove floppy disk - Added second drive sound to speaker output - Possiblity to use your own drive sound samples - Custom U64 palettes - SystemInfo Page, showing drive, cartridge and storage status (under F4 key) - Flash Disk, to store drive roms, sounds, cartridges and such - Cartridges are now always CRT files. Selected by filename in the config - Cartridge compatibility check and reporting - Plus Various UI Improvements and many bugfixes... GMOD2 support, including EEPROM (U2+ / U64 only) Zaxxon Cartridge support Implemented writing CVT files back to a disk image (enables copying CVT files across disks.)
24.07.2021 -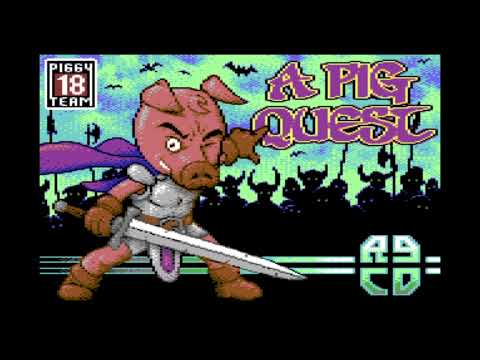 New footage for C64 WIP game 'A Pig Quest'
A Pig Quest is an upcoming Commodore 64 game. Brought to you by:Antonio Savona, Mauricet, Aldo Chiummo and Gaetano Chiummo.
23.07.2021 -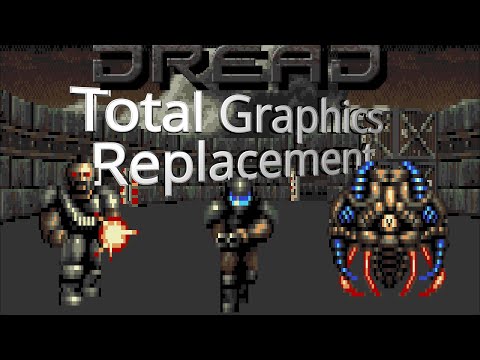 Making-of 'Doom' for Amiga 500 - Part 8 - Total Graphics Replacement
Episode 08: This one is big. We remade almost all of the graphics. And effectively doubled the rendering resolution.
23.07.2021 -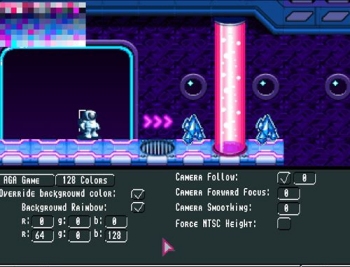 Amiga game creator 'Redpill' V0.8.13 released
Redpill, the Amiga game creator, is a tool to empower people to create many games for Amiga without programming knowledge. It allows people to create 2D games with the true Amiga feeling. Supports both ECS and AGA Amigas, it is free and it is still in development. List of changes in 0.8.13: - Number of Animations increased from 64 to 128. When updating project to this version there is no going back. - When saving a project, if using the same previous name a backup of the project file is created. - FIX: In tile properties of tileset 1 being used in all tilesets while in runtime. - FIX: In tile properties screen solid tiles being displayed in incorrect positions. - FIX: In ground collisions where the Objects are bigger than tile size. - FIX: Fixed glitch happening when using Camera Shake in large maps.
23.07.2021 -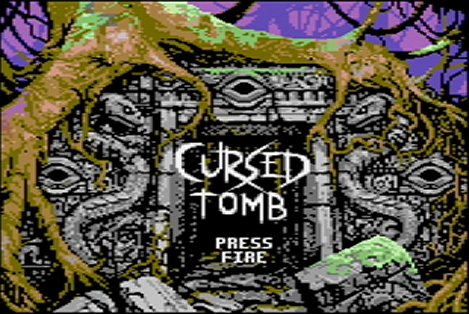 News update for C64 WIP game 'Cursed Tomb'
It has been a while since the last sign of life about this action puzzle game by Zbigniew Ross (creator of YOOMP! 64) that will be published by Protovision. However, things are moving along quite nicely with Cursed Tomb: - Levels have been tweaked/fine tuned; - In addition to a disk version, cartridge versions have been created: both, GMod2 and EasyFlash formats will be available; - Work on game manual has been started as well. The game is under heavy testing by the QA team now. Stay tuned!
22.07.2021 -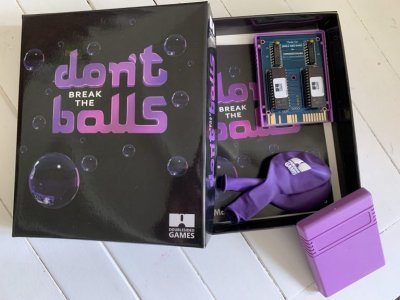 'Don't Break The Balls' (C64) boxed editions production delays explained
As you all know, Don't Break The Balls for the Commodore 64 has been released recently and while we're sure you're enjoying this great game with the provided digital copy you got by purchasing the boxed edition, you're eager to play it on the real media! Read here, why this is delayed...
22.07.2021 -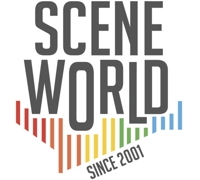 'Scene World Podcast' Episode #121 - Chris Abbott - The Little Books Of Soundchips
This time Chris Abbott is in the new podcast episode, a british chiptune musician and true master of the C64 SID chip. Right now he is working on an extensive book about soundchips which is set to be released by Fusion Retro Book.
22.07.2021 -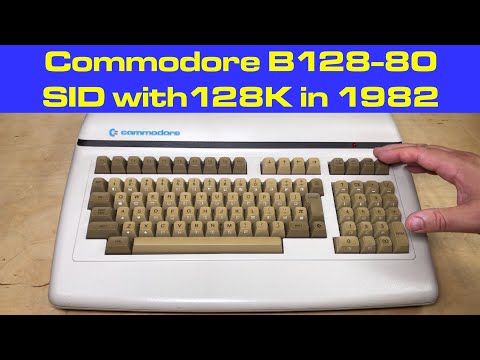 Exploring 1982's Commodore B128-80 aka CBM 610 - new Video from '8-Bit Show And Tell'
Right as Commodore was launching the Commodore 64 in 1982, they released another machine with 128K of RAM, 80 column display, 2 MHz CPU, a SID chip, an extended keyboard with numeric keypad. It wasn't the Commodore 128 falling through a time-warp from 3 years in the future, it was the B128-80, a very interesting machine which was quickly abandoned by Commodore.
22.07.2021 -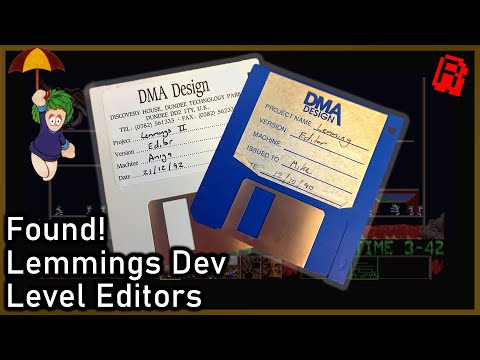 Found! The Lost Lemmings Disk [Tech Nibble] - new video from 'RMC'
One of the favourite parts of exploring and restoring old systems is finding software that hasn't been seen before, and isn't archived even on the furthest corners of the internet. Now we have just such a collection of disks with thanks to game developer Mike Dailly, and it was managed to capture the images to explore.
22.07.2021 -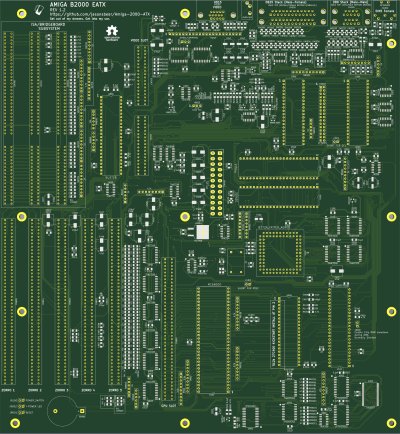 'Amiga 2000 EATX PCB' revision 1.2 finished
The purpose of this project is to develop an open source Amiga 2000 PCB in the EATX form factor, an ATX variant that allows slightly deeper PCBs. There are one-to-one board replacement projects for the Amiga 2000, but none to change the layout to meet current form factor standards. In addition, the Amiga 2000 made use of connectors and custom parts that are no longer commercially manufactured. This often requires parts to be pulled from existing machines. As such, this project will make use of only actively supported components when possible. New in Rev. 1.2: - Fixed traces on the keyboard connector (error on the C= schematic), - Added missing _COPCFG trace, - Deleted some extra traces that were not needed, - Added HSYNC/COMPSYNC selection jumper, - Cleaned up parts of the schematics, - Widened U801 footprint (RTC62423 is wider than the standard SOIC package), - Added support for 1 and 2 MB Kickstart ROMs (512k still supported), - Added some space around the external ports...they were crowded
21.07.2021 -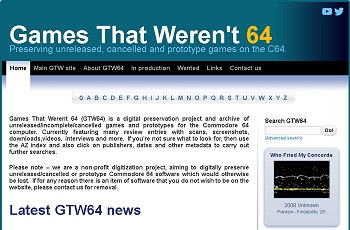 'Games That Weren't 64' (GTW64) July 2021 update
Slightly slower month as the days get hotter, but here is another GTW64 update for the month. This month we take a look at an Alternative Software game that never was, but has been out there for some time. Details of a strange planned reworking of S.T.U.N Runner with a Duck protagonist that was found lurking around in the code of Dreamraider. An obscure early German adventure game that is missing from GB64 and much more. Enjoy! Entries added: Domain, Jungle Adventure, Unicorn Software titles, Zanga-duck and the gribblies - plus 17updates added.
20.07.2021 -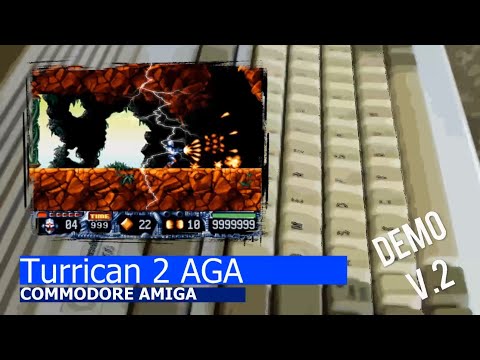 Footage shows current state of the new WIP Amiga AGA port of 'Turrican 2'
There is a work in progress conversion of MS-DOS Turrican 2 for Amiga (AGA). This is basically the same as the Turrican 2 we know and love, but with more colours. This is a project that was started initially to learn Amiga ASM, although much of it is written in C in the end. The video shows footage of the newly released demo version, which you can get
here
.
19.07.2021 -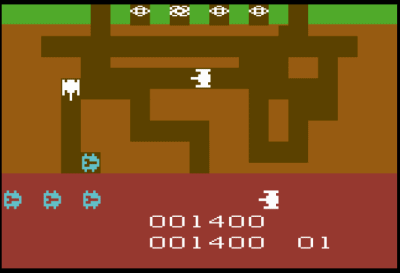 C64 port 'Thunderground' released
'Thunderground' is another Atari 2600 port by Arlasoft. This game is sort of a cross between Combat and Dig-Dug. The goal on each level is to destroy the six pulsing nuclear bases on the surface of the planet. These are protected by two 'Core Ranger Tanks', which will try to ram and shoot at you. Get it as digital download for free.