Site Blog
...from time to time, some thoughts need to get out...
I hate moving...
Author: Zeldin - written on 20.05.2009
...and yet I did.
Ok guys... long time no update, just because I was moving and the new apartment needed a lot of refurbishing in the last months. And don't think I am thru yet already. There is still a lot to do and I am slowly running out of money... bah...
So I am finally feeling like home here at my new address, which is actually my old address, because I lived here for nearly all my life except the last decade. And funny enough a lot of people still remembered this old address, which was mentioned in many of my old contact notes and demos. And to give you a glimpse idea of the view which I get from my new working place, I inserted this little photo.
Besides I had to get over the end of season 2 from my most beloved TV show called "Terminator - The Sarah Connor Chronicles".
Yes, "Born to Run" just hit me in my face with a strong blow in the middle of April, leaving me in total lethargy, thinking about it for days. Keeping in mind that it could be the last episode at all, shed a certain light on the happenings in this (already legendary) season finale, which didn't make me feel much comfortable! And my nightmares came true. Last monday the worst case happened, when Fox dropped T:SCC out of their future schedule... curse on them... I already miss Cameron. Now how do I get over this? We'll see... ;-)
So bye for now...
Commodore News
...freshly fished out of the net...
13.07.2020 -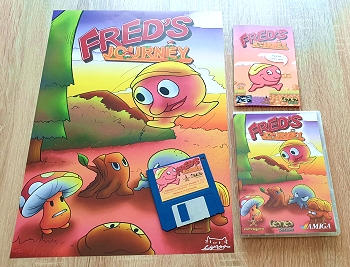 'Fred's Journey' (Amiga) - Boxed Version available
This game was already released to the public on the Revision Demoparty 2020 and is now available as a neat boxed version. 'Fred's Journey' a nice reminiscent of a series of C64 platformer games about Fred - a legendary C64 persona - who fondly remembers his past journeys. Features: - Runs on any OCS/ECS Amiga, with 1MB RAM from Kickstart 1.2 onwards. - Written in 100% 68k Assembler. - 50fps, soft parallax scrolling, more than 50 colours. - Oldschool pixels. - 20 levels. - 7 chiptunes. - Hidden cheats. - Highscore
13.07.2020 -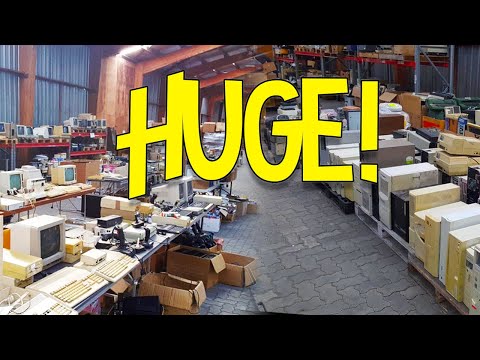 New Zealand's Biggest Vintage Computer/Technology Sale - video by 'Bread Box Commodore Computer Museum'
July 11th & 12th 2020 in Auckland a big vintage computer sale took place. Watch this video to get an impression and see some cute retro computers, of course including some awesome Commodore machines.
13.07.2020 -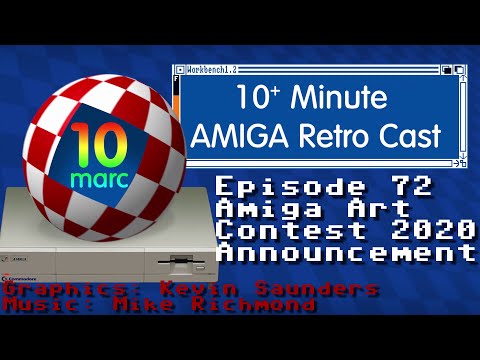 The Amiga Art Contest 2020 is on! - 10 MARC Episode 72
This week in the '10 Minute Amiga Retro Cast (MARC)': The Amiga Art Contest 2020 is ready to start! Last years Amiga Art Contest was quite successful and Pixel Vixen and I had a lot of fun doing it. This year we expect it to be even bigger and better. Here are the details: Turn on those Amiga's and launch DeluxePaint! It's time for the Second Annual Amiga Art Contest! I have joined up with Pixel Vixen and *** to host a fun art contest using our Amiga's as the paint brush.
12.07.2020 -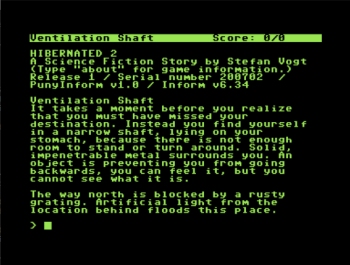 PunyInform, a new library for writing text adventures for old computers - article on ViTNO
This interesting article on 'Vintage is the New Old' (ViTNO) refers about 'PunyInform', which is a library for the Inform 6 programming language, to make it easy to create simple or advanced text adventures which will work well on 8-bit computers like the Commodore 64, Amstrad CPC, Apple II, Spectrum +3 etc. PunyInform was first released on July 5, 2020.
12.07.2020 -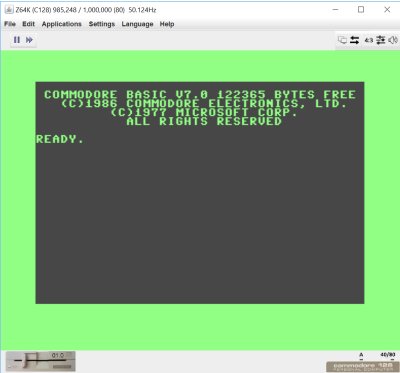 Update for 'ZK64' available
'ZK64' is a pixel exact emulation of the Commodore 128,Commodore 64, VIC 20 and Atari 2600. 'Z64K' should run on any platform with an updated java runtime environment installed. Latest updates: - C128 VICII uses correct RAM block when MMU RAM banks 2 & 3 are enabled. - Fixed fatal error when attempting to start stand alone SID player caused by 6 July update.
12.07.2020 -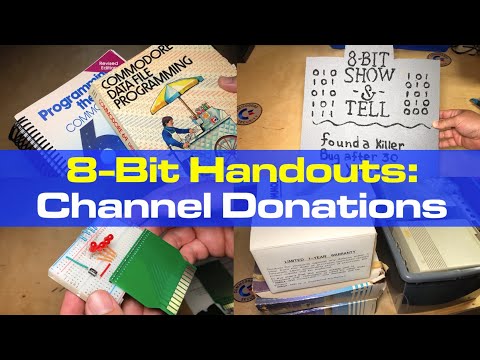 8-Bit Handouts: Channel Donations - new Video from '8-Bit Show And Tell'
Robin from '8-Bit Show And Tell' is taking a look at the C64 stuff that's been donated to him lately.
11.07.2020 -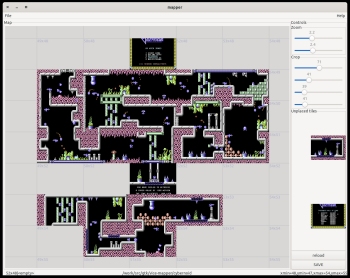 Emulator mapping tool 'vice-mapper' released
This is a tool to create graphical maps out of emulator screenshots - tested with Vice. This was inspired by the wish to have an automap feature within retro-machine emulators, such as Vice, where a player just navigates through a game and all 'new' screens are somehow mapped. Current limitations: 1. Automation was postponed until we find some clever idea to detect 'new' screens within a game. 2. Scrolling maps would be nice but require even more cleverness. The map is composed ouf of individual screenshots which follow a specific naming convention: vice-screen--XXxYY.png 'XXxYY' provides the coordinates within the map.
11.07.2020 -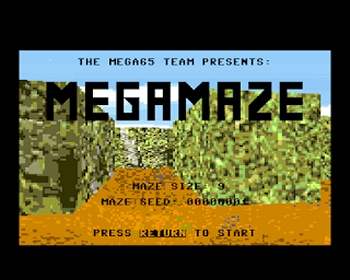 Making a C64/C65 compatible computer - Porting a Wolfenstein-type engine to the MEGA65
Paul Gardner-Stephen: "This post is about something that I have had in mind for a long time: A couple of years ago (or possibly more), someone pointed out to me that the DMAgic controller could in theory be used to paint textures, since texture painting really is just a matter of copying a texture onto the screen. Well, and scaling it appropriately. And dealing with the screen memory layout, so that each successive write goes to the next pixel. Luckily, its possible to do both using some quite simple tricks." Read on...
11.07.2020 -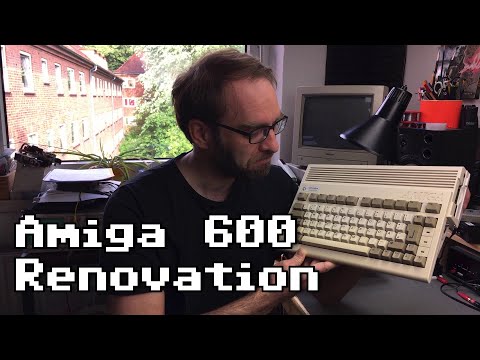 Amiga 600 Retrobright and SD Harddisk - new video from 'Jan Beta'
This time 'Jan Beta' is doing some more restoration work on his Amiga 600. He cleans, retrobrights and repairs the case and add an IDE to SD adapter to replace the missing hard disk drive.
11.07.2020 -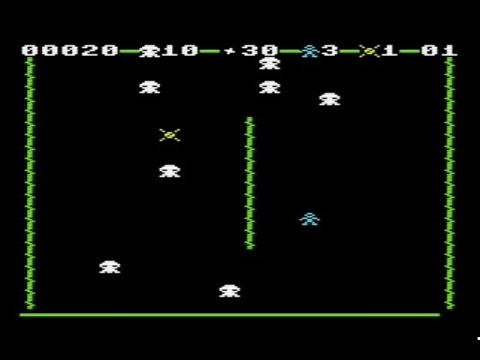 'Cross Shoot' - new VIC20 game by Fabrizio Caruso
Kill all enemies. Normal enemies can be pushed by the bullets. Skulls are harder to kill. Discover the 16 secrets hidden in the game. There are 12 items (5 standard items + 7 secret items). The game has 16 levels (2 boss levels) + 1 secret level. Requirements: VIC-20 + 16K. Download link in video description.
11.07.2020 -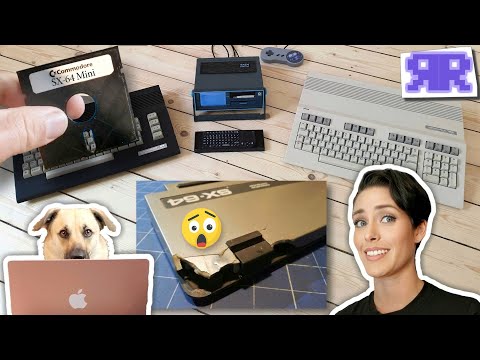 Commodore SX-64 Extremefurb + SX-64 Mini?! - new video from 'Retro Recipes'
Today it's 2 for 1 in a tiny package (!) as we look at the Commodore SX-64 Mini project & another incredible extreme refurb by Pete, a mte of 'Perifractic'.
10.07.2020 -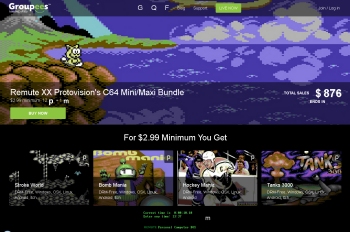 Lots of Protovision games for a massive discount over at Groupees - THE64 Mini ready!
Protovision has announced to be partnering up with Remute and Groupees to provide you with one of the hottest bundle deals ever from Protovision: Grab up to 12 Protovision games as digital downloads including configuration files for THE64 Mini or Maxi for each and every game. There are three tiers starting as low as USD 2.99 with the top tier even including our latest and highly acclaimed game release, Wormhole.
10.07.2020 -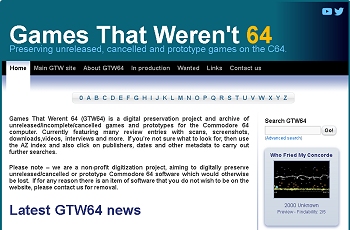 'Games That Weren't 64' update for July 2020
New update at GTW64, namely 6 new entries added: Apocalypse, Early Days, Mad Mission, Mirage, Molar Madness, Sidewinder. Plus 28 updates: Advanced Soccer Simulator, Alliance, C64GS cartridge titles, Catacombs, Circuit Man, Earth Mover, Escape From Colditz, Findit, Forestland, Habitat, Iron Hand, Living Dead, Make My Day, Mastertronic Loader 3, Mega Games, Megatanoï, Miner Willy Meets The Taxman, Mishun, Nighthunter, Orpheus in the Underworld, PHM Pegasus – Advanced Battle Disk, Race Drivin', Rainbow Educational Software, Red Arrows, Shoot Out!, Slap Fighter, Thunder Hawk, Unknown Tony Crowther game.
09.07.2020 -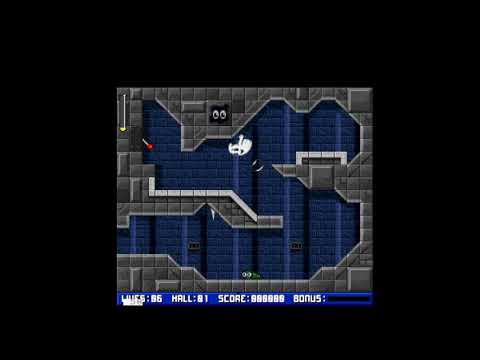 'Bubble Story' new game for Amiga (500) in development - video shows first early levels
'Bubble Story' is an Amiga game made of 32 levels. Help a ghost by blowing on its soul (a bubble) to exit each level. The main concept is the same than the 1987 commercial game Bubble Ghost and a remake called Super Bubble Remix.
09.07.2020 -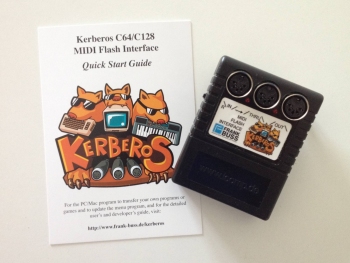 C64 MIDI interface 'Kerberos' restocked in Protovision Shop
Kerberos is a MIDI interface for the C64 and C128 with integrated flash memory. With this cartridge for the expansion port you can connect MIDI devices like keyboards and synthesizer to your C64 or C128. The 2 MB integrated flash memory allows to save programs for quick start, which you can transfer over MIDI from a PC or Mac. The 128 kB integrated RAM can be used for programs as a memory extension. The cartridge provides an EasyFlash emulation as well, you can store an EasyFlash CRT image with up to 1 MB on it.