Follow the sun - keep da spirit alive...
Hello an welcome to the virtual home of the scene group CASCADE - an illustrious almagamation of home computer freaks.
We are a loose group of people sharing our dedication for the good old Commodore home computers of the 1980s, still wellknown today as "C64" and "Amiga". On our website you'll find own productions (demos, tools and games) - stuff that has been created (or worked on) by members of Cascade. Additionally there are concerning emulators, tools and drivers for download. Have a nice time...
Online for you since 1996!
You can also find us here:
Latest Uploads and Changes
23.07.2016 - C64 related stuff uploaded/edited

23.07.2016 - C64 related stuff uploaded/edited


11.07.2016 - Amiga related stuff uploaded/edited

Farewell Patrick!

Author: Zeldin - written on 31.12.2014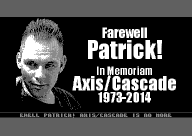 Axis/Cascade is no more. We are all still shaken by the unexpected death of our friend and group mate Patrick aka Axis/Cascade. We wanted to express our sorrow, so I coded a little intro, which you can find in the
C64 demo section
of this page. The following text is a rough excerpt taken from the scroller:
Dear Patrick, may this be the condolence from the the group that was co-founded by you long time ago. We want to give you our last salute. I (Zeldin) know how much you were breathing the spirit of the scene. That's why I thought a goodbye demo would have made you happy. You and me exchanged lots of mails about how much we both enjoyed the good ol' days and of course: how much we miss them... It was this tie that emotionally connected us for over 15 years. Thanks for all your help in supporting the group and your indefatigable endeavour in spreading our name. Your tattoos were legendary! Thanks for your work on fb and youtube. Your channels were appreciated by a lot of people. Thanks for being such a good chap. You'll be sorely missed!!!
Mach's gut, Patrick... den Adler im Herzen, sge4ever!
Older comments available:
©1996-2016 Cascade Productions - Powered by zStoff -
Impressum